TNS is one of the world's top insight and consultancy groups. One of the tools they created for improving brand management work is this little framework called the Consumer-Brand Relationship Model.
Emotion is at the heart of this relationship, in the sense that it exerts an unconscious force over our choices and is continuously in play when it comes to how we respond to brands. That is why good use of symbolism will help build a strong brand, as it can communicate emotion more deeply than words or narrative. Whether it is aware of it or not, every choice the brand makes includes symbols that consumers will notice – the feel and vibe of packaging, the choice of colors, fonts and shapes. For example, different packaging colors evoke different feelings and thus create different product expectations.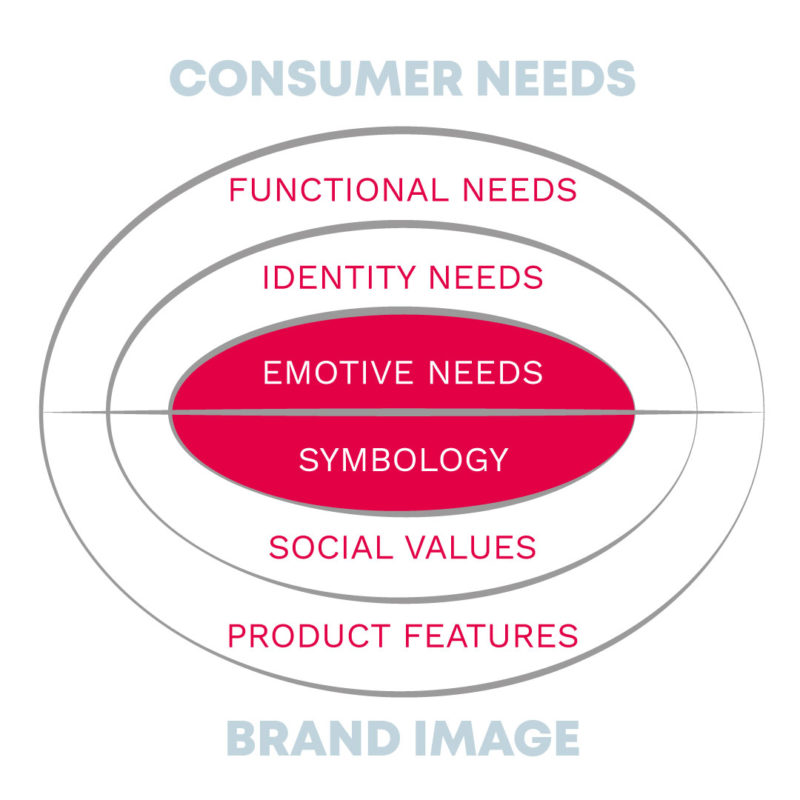 The Consumer-Brand Relationship Model Framework
So, how should you use this framework? Well, when you're helping an agency partner to better understand the brand you're representing, you can answer the questions focusing on the brand:
1) What are the features of the product? What consumer needs do they satisfy?
2) What social values does the brand hold? How are they aligned with the social identity of the consumers? How does the brand help people say something about themselves?
3) What symbols is the brand using? How do consumers perceive them? What emotions do they prompt?
When you're working on creating or building a new brand, answer the questions focusing on the consumer:
1) What are the consumer's functional needs? What should the product features be to solve those specific needs?
2) What are the consumer's identity needs? To what groups do they belong? What are the social values essential for them? How can the brand adhere to those social values?
3) What symbols do consumers value? What are their emotive expectations for the brand? What sparks an emotional reaction from consumers? How can the brand integrate those symbols into its look and feel at each consumer touchpoint? How can the brand spark the same emotions within the consumer at all touchpoints?
If you'd like to see the entire collection of frameworks dedicated to those working in marketing, advertising, and branding, do follow us on LinkedIn, where we publish them.